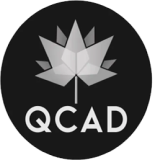 QCAD
STABLECOINS THAT POWER A DIGITAL WORLD
Partnership
Stablecorp was founded by 3iQ, Canada's leading crypto asset manager, and Mavennet, a recognized leader in the blockchain development space. Stablecorp is a leading Canadian fintech firm building bank-grade blockchain technology. QCAD was Stablecorp's first product release and was the first ever major Canadian-dollar stablecoin designed for the mass market. In February 2021, Stablecorp entered into a strategic partnership with VersaBank, an A-rated Canadian Schedule I bank, to develop VCAD.
3iQ was founded in 2012 by investment industry veteran, Fred Pye, and it is Canada's first and largest multi-crypto-asset fund manager.
Mavennet is a venture studio and consulting organization with deep expertise in blockchain and AI technologies. Mavennet has more than 4 years of history working in the financial industry as well as the physical economy & commodities with clients such as Canadian banks, TMX, the Canadian government and US Homeland Security.